PHOENIX⁠ — On Monday, the Arizona Department of Health Services released "more restrictive" recommendations to be employed by paused businesses for their eventual reopening. The new recommendations were made in response to a Maricopa County Superior Court judge's ruling that the state had to create a process through which gyms and fitness centers could at least apply to reopen.
On June 27, Governor Ducey issued Executive Order 2020-43 "Pausing of Arizona's Reopening."
Ducey's Executive Order paused the reopening of several specific industries with operations that some public health officials believe have a high-risk of spreading COVID-19, specifically gyms and fitness centers, bars and nightclubs, waterparks and tubing, and movie theaters.
Gyms owners are losing patience.
The owner of Mountainside Fitness, who is leading the legal fight against Ducey's order, posted his assessment of the new recommendations on Facebook:
RELATED ARTICLE: Arizona Fitness Centers Win Right To Apply To Reopen
The fitness centers had sued the governor who had ordered the centers to close, while supermarkets, restaurants, and other businesses could remain open.
Prior to the judge's ruling, Capitol Media Services reported that Will Humble, the former director of Arizona Department of Health Services, has determined that Ducey's order to shut down gyms is "scientifically wrong."
Capitol Media Services obtained a document in which Humble noted, "Because the proposed guidelines are very specific and more stringent than the standards applied to normal commercial businesses, my opinion is that any fitness center adhering to the proposed guidelines presents an equal or even lower risk of transmission of COVID-19 than, per prior examples, a normal retail establishment or grocery store."
Benchmarks
All three of the following benchmarks must be met for 14 days, with a 12-day reporting lag period to move from a higher transmission phase to a lower one.

Phased Reopening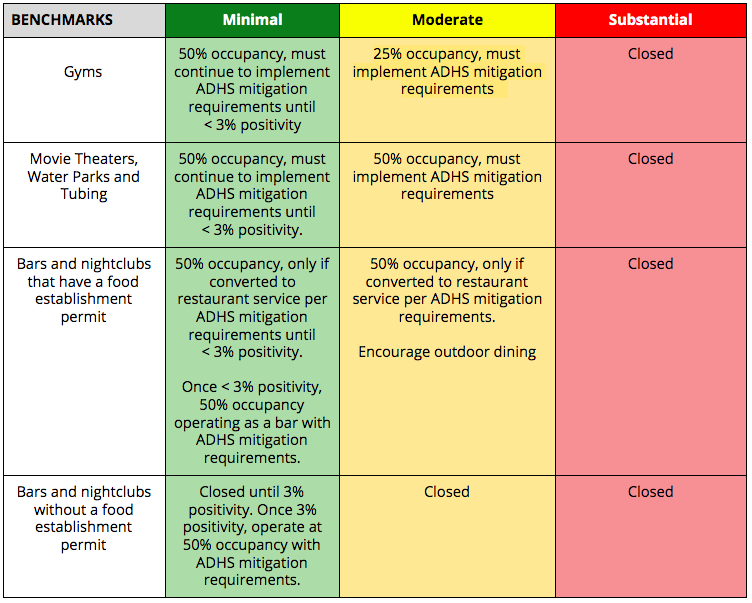 Mitigation Requirements
Upon reopening, all industries must implement the safety protocols and guidelines prescribed by ADHS and must submit an attestation form stating they are in compliance. The attestation form shall be posted in a visible location in the facility. ADHS COVID-19 Guidance for Businesses.